Having lived in this house for 8 years now, things we put in initially or even a few years later are slowly looking more and more tired. We're in a bit of a slump at the moment so don't want to fork out for new things like carpet unless we absolutely have to. We don't know how long we'll be here, but also the kids are not the tidiest or most careful of people, so adding them and our pets to the mix, it makes much more sense to try and clean up what we have and make do, saving a fortune for just a little work and cash.
Last week we had a
Rug Doctor
delivered to see if we could salvage carpet and a rug we felt was well past its best. We have a few areas such as Alf's bedroom and the playroom which have been covered in all sorts through the years, from dr
eaded baby creams, Playdoh a
nd even whole pints of juice - yep it's truly delightful being a parent!
You can hire a
Rug Doctor for collection
, or you can even have it
delivered by courier
straight to your front door! I had no clue this was an option and will definitely keep it in mind for next time.
The only downside to having our machine delivered was that we couldn't pick a time, just a day. I was in though for delivery so not a problem. We got the cleaning solution dropped of in the box too, so that was super easy.
The machine is so simple to set up. You just unclip the tank on the front, pour in your solution and warm water as per the instructions on the detergent bottle, replace the tank and you're good to go. Once ready, you just pull the machine across the carpet backwards holding the button down to release cleaner and letting go to suck up the remainder of the water.
The main room I thought I'd share is our playroom. This carpet and rug has been subjected to all kinds of things over the past six years of children and we were well ready to rip it up, bin the rug and buy new.
Its best to have an empty room, but if like us you have furniture that is just too much of a faff to move for a carpet clean, there is even this great little home
spot cleaner
which we have used for the hard to reach spots, it's brilliant! Having this little spot cleaner at home means that any spillages, pet/kid accidents that occur can be sorted there and then, with maybe an annual hire and clean with the big Rug Doctor machine. The spot cleaner retails at £154.99 on the
Rug Doctor website
and is a worthy investment for any family. We used it to get the spots near the doorways to get up close and it's worked so well.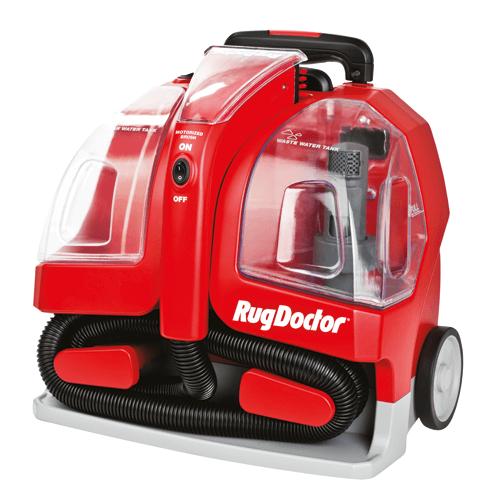 Here's our results using the large hire machine;
Before
Lots of old stains, marks from the pram and bits of dirt. Despite being hoovered regularly, this is a main walk way and gets the brunt of the every day family traffic. As you can see, it is well past its best and in need of a good clean up or replacement.
After
We were blown away with the results of the Rug Doctor, you can clearly see the lines where the cleaner has been, a little embarrassing to see! The carpet looked like new underneath and extracted a great deal of dirt. We were surprised to see just how much muck there was and how discoloured the water was that came out.
Here's a few more pictures of the Rug Doctor in action
And here's what we removed! (It's disgusting!)
I'm really embarrassed to share these pictures, but it just goes to show that even though we hoover a lot and knew there was some stains, we had no idea that all this filth was lurking in the carpet! Check out these pictures for a glimpse of just some of what we removed. There was even lots of sand - how does that avoid the hoover?!
Verdict
As you can see from the results and colour of the water coming out of our carpet, we had brilliant results and were very pleased with the outcome. The carpet pretty much looks good as new now and is much lighter than I remember! I am a little disgusted at how dirty it was and will definitely make this a more regular thing now, hiring a Rug Doctor annually.

Having the machine delivered was great, it would have been good to know a more specific time for delivery, but not the end of the world. It is a heavy machine though so if like me you have back issues or are a little on the weaker side, you may need help to lift it out the box.
The machine is easy to use, though it is quite noisy so worth considering when planning your hire time. I was impressed at how dry the carpet felt after we used this, it seemed to suck the dirty water out after cleaning really well and despite living in an old cold Victorian house, they were dry by the next day, left looking and smelling fresher.

We will 100% be hiring a Rug Doctor again and I would use the delivery service to save lifting the machine in and out of the car. If you have some questionable carpets or have just moved in and want to freshen up your home, it's well worth a quick hire with Rug Doctor, it's far cheaper than replacing carpets and gives amazing results! We genuinely feel happy with the carpet in the playroom now, but had previously talked about replacing it. Lots of money saved and even the old rug on top has been given a new lease of life! Some of the deep set stains on the rug (the worst was a pink glitter stain!) are still visible, but all the general every day marks and gentle stains are long gone.

It's a really nice feeling knowing the carpets are now far more hygienic and clean for the kids to play on too and although a little embarrassing seeing what came out, it was really satisfying to do!
My main tips when hiring a machine would be to move furniture and hoover well before it arrives to get maximum use of your hire time. Have help to lift the machine when needed, go slowly and make sure you read the instructions!

Hiring a machine costs just £22.99 for 24 hours, but you can choose to rent for longer. If you'd like to try out a Rug Doctor machine, you can find out more on their website by clicking right here.
*This is a collaborative post with Rug Doctor, all words and thoughts are my own.