Collaborative post with GetNameNecklace
With Father's day on the horizon and most of us regularly needing gift inspiration for birthdays and celebrations, I thought I'd share some personalised jewellery which would make the perfect gift for parents, grand parents, couples and even our kids. Personalised jewellery comes in many forms, from the more traditional and modern twists on
name necklaces
, colourful
birthstone rings
to carrying beautiful family photographs and there's lots of inspiration out there for your next celebration.
GetNameNecklace.com has a huge range of gifts for all the family, all celebrating love, family, parenthood and special occasions, so if you want a special gift that's guaranteed to make your loved one smile, here's some of my top picks from across the website...
Whatever your taste, from the more subtle to the all out bling, this website has something for everyone. With rose golds, sterling silver and gold colourings, there are literally hundreds of designs and I can guarantee there will be something you'll love. You may want jewellery that has an engravement of some kind, the perfect thoughtful gift for someone coping with loss or a celebration of birth. You could even find something for anniversary's such as personalised watches and rings, with corded bracelets and simple initialled earrings.
I love the selection on this website and in honesty I would not have thought there would be much I'd like, but there is lots of simple but stunning jewellery that I love and if you hadn't guessed from the selection above, the infinity jewellery is my favourite as well as silver when it comes to my favourite jewellery. I also love that you can get personalised charms made for your favourite bracelet, with engraved messages and inlaid photos, these are super special and if you want those happy tears with your gift, this would be a great pick. For me, this infinity necklace is perfect, it's simple, beautiful and would just be really special to wear, reminding me of the kids while they're at school.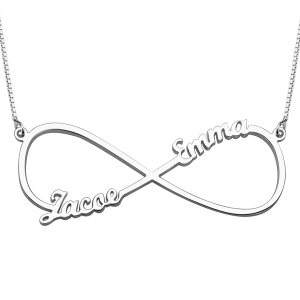 This jewellery is a great way to remember loved ones and hold our children close to our hearts, the prices are great for the quality and options available and it will be top of my list now for special gifts, I love this site!