Alf is into super heroes BIG TIME and has been really enjoying his super hero toys, especially the
Arkham Assylum play set
from Imaginext at Fisher Price that we reviewed last year. I love that he had something like a dolls house that suited his tastes and it's encouraged so much creative play. Soph has also got into super heroes now and it's a great way for them to play together, with one being the 'bad guy' and one being good. The stories they come up with are amazing and so funny to listen to.
We were recently offered the chance to review the new
Transforming Batcave
, also by Imaginext and I just knew he'd be bouncing off the walls with excitement when this one arrived. The Batcave has lots of great features as always with the Imaginext toys, it's compatible with all the figures and transforms in a really cool way!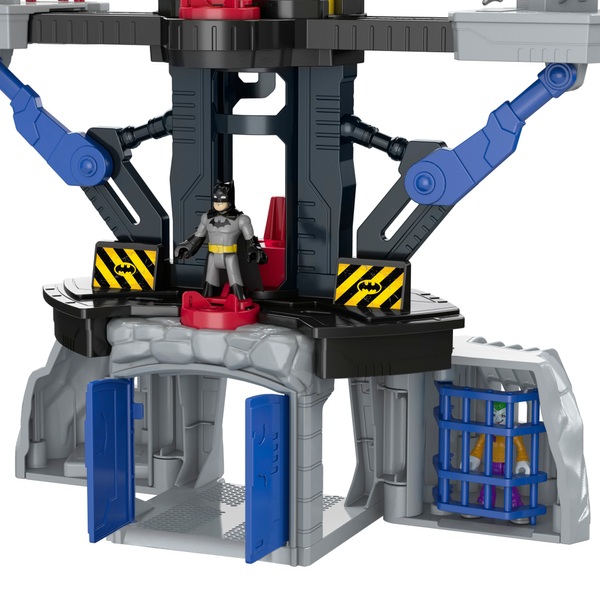 Here's a few key points about the transforming batcave;
Suitable from ages 3 and up to around 8

RRP £72.99

Batman figure & armour

Joker figure

Projectile launcher

Opens up to reveal bat wings

Light up batman eyes

Turning power pads to open chest for armour and garage

Jail

Elevator

Weapons

Includes 2 AAA batteries (for lights)
The main thing I love about this as a parent is the quality. As with all Fisher Price products, these toys are built to last and made of sturdy stuff. Playing is rarely gentle, especially when you're in the midst of a bad guy battle, so it's really important that all the moving parts are tough and easy for little fingers. This again ticks all the boxes on the quality front and although it lights up, it doesn't make noise which is always a big bonus for us older folks!
The first impressions of this toy when we pulled it out the box was just WOW! It's very striking and impressive and Alf couldn't get it out the box quick enough! This is big, but also flat and opens up, so it doesn't take up a great deal of space and has tonnes of opportunity for play ideas. There's no assembly required, so if you got this for a gift the lucky recipient can literally unbox and play straight away. Just have some scissors on hand for the ties holding the bat cave in the box. If you get one and feel you may be missing bits, check the compartments/jail at the bottom, this took us a while to work out.
The transforming Batcave is a great addition to Alf's super hero play times. He has both sets in his bedroom and plays with them together which works really well. I can always tell straight away when Alfie is truly excited and he really loved this at first sight and has played on it daily since. At six, this doesn't happen too often now with toys so I'm really happy that he loves it so much, especially as his sister has so many toys and his have been getting less and less as he grows and gets increasingly more interested in screens. I like that this gets him away from his tablet and computer games for something a little more imaginative and fun, that he can play with alongside his sister or friends when they visit.
I can't really fault this play set, it's good quality, light weight but tough and easy to store. My only quibble if I was buying this for a gift is the RRP which I think is a little high. It's currently in Smyths Toys for £49.99 which I think is bang on as if I'd had to guess I would have priced this at around £50. That said, it does have a lot of play potential and will go on for years, so it's a great investment for any play room.
You can shop for the Imaginext Batcave right now in all major toy stores and I'm sure your little super hero fans will love it too!