Just recently we reviewed the
Rug Doctor machine
, a large carpet cleaner that can be collected or delivered to your door to give carpets a complete makeover. The results with ours were insane, did you see those before and after pictures?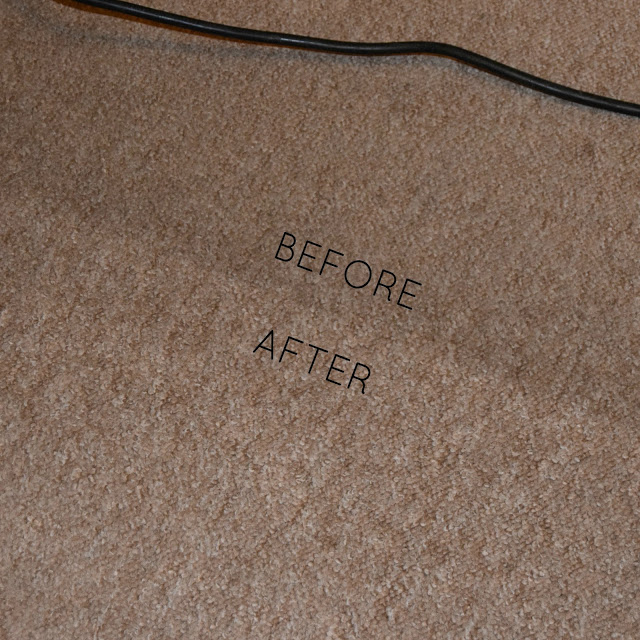 As well as the hire machine, we were also sent a spot cleaner from Rug Doctor, which is basically a smaller version to use at home to bust stains on carpet and furnishings and it's super simple to use. I wasn't obliged to review this machine but having suffered a family sick bug and a boy with a terrible aim for a bucket, this has been an absolute godsend and I would say that it's a must have for all families with pets or small children. Accidents happen and it's such a peace of mind knowing that things have had a proper deep clean. Seeing the results from cleaning up vomit made me realise how inefficient regular cleaning really is!
As this extracts the dirty water and filth out of materials and carpet, it's not just clean on the surface but all the badness gets pulled out. You get to instantly see what's been pulled out and if you think about those early potty training accidents, pet accidents or dreaded sick bugs, this is SUCH a good thing to have at home, never mind just cleaning up the daily drink spills and muddy foot prints! The cleaning results are equally as good as those above from the larger machine too, with a much smaller and more direct cleaning head for smaller 'spots'.
Much like the larger hire machine, this one has two chambers, one for clean water/cleaning solution and one tank for the dirty water to go into. It's oddly satisfying seeing what comes out and also a big relief knowing the colour from the stain has been removed as well as any germs lurking beneath.
This machine is very easy to fill, with a fill to line for water and cleaning product, the tank can then be slotted straight onto the machine and you're good to go. Once filled, you can start cleaning with the hose and attachment included. Once switched on, the machine is sucking' and you can then press the button to release cleaning solution onto the carpet or fabric. If you've accidentally got too much water, you can extract the excess with the machine, it's so simple! I didn't take photos of the big sick clear up because, well it's little gross, but I can assure you it really did the trick, completely removed the smell and colour from any staining and left the carpet (that we'd not long since cleaned with the other Rug Doc machine!) good as new once again.
This machine retails at an RRP of around £150 which I think is a really great price and should be a must have on any shopping list for new parents. Just having this in the house makes me feel far less panicky about the kids having open cups and if we get a spill or accident somewhere, I know I can remove it quickly and easily with this. This cleaner is such a good investment for any family and really good for car interiors too for anyone that likes a tidy car and for us parents that end up with a skip on wheels! Thanks kids.
You can read all about the spot cleaner in more detail over at the Rug Doctor website, where you can also buy cleaning products, spare parts and attachments. This has such a huge thumbs up from us parents and I can guarantee you won't be disappointed with the cleaning this little machine is capable of.
*Contains affiliate link